Christmas 2016
Christmas 2016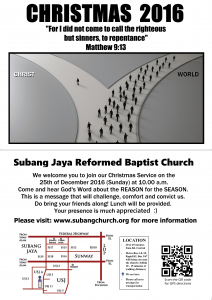 You are most welcomed to join us on the 25th of December 2016 for our Christmas service in Subang Jaya Reformed Baptist Church. If you have any queries or need for transportation, please DO NOT HESITATE to call us at 016-3222462.
Our service will begin at 10 a.m. instead of our usual 9 a.m., and lunch will be fully provided. Do bring along your friends. Would you please inform us if you are coming, so that we can make the necessary arrangements for food and drinks?
The Lord Jesus came into this world around 2,000 years ago. What was the purpose of His first coming? Let us reclaim back the SEASON by understanding the REASON for it.
God bless, and have a blessed New Year! 🙂